What is SCD? (Service de Coopération au Développement)
SCD is a French sending organization of volunteers for long-term missions (6 months to 2 years) on development projects. Volunteers provide support for partner structures in Asia, Africa, South America, the Caribbean, Middle-east and Eastern Europe.
Key figures:
About 100 departures per year
About 250 volunteers over 50 countries every year
The highest percentage of volunteers is in Africa (about 60%)
SCD volunteers are under particular status different to an employment contract: The volunteers do not earn salary, but they receive an allowance which can allow them to cover the basic needs.
The purpose of SCD is to establish solidarity relations between actors in the South and the North for a better mutual understanding and the development of a more humane world.
Main Missions
SCD main missions are:
To recruit the candidates for its partners (partners must have the last word).
To prepare them to live and work in other countries and different cultures by a 6 days training session.
To provide administrative porting and social protection of volunteer (pension contribution, Worldwide support)
To participate in voluntary safety by informing him/her on good practices
To keep in touch with them when they are on the field. They have to regularly send an assessment about what they are doing.
To facilitate social and professional integration when they come back in France.
SCD is accredited by the French Ministry of Foreign affairs and International development and French Agence du Service civique.
Volunteers can be of any nationality but must speak French and be a resident of the European Union. It is not possible to volunteer in his home country.
SCD offers two types of volunteering contracts: Volontariat de solidarité internationale (Volunteering of international solidarity) and Service civique international (Civic Service for the international).
For SCD, volunteering is a social commitment that encourages dynamic cooperation and exchange between cultures and people. Volunteers are involved in social transformation.
The aim of the SCD is to develop lasting relationships of trust with its partners, based on common values in terms of development practices.
Volontariat de solidarité internationale (VSI)
The VSI is a full status; the framework is set by the Act of February 23rd, 2005. As stated in the act it is different from an employment contract.
The voluntary service takes form in an agreement signed by the volunteer, the partner organization and the SCD. It specifies the contractual elements, commitments and responsibilities of each party. It lasts between 1 and 2 years and is renewable until 6 years.
SCD recruit qualified experienced professionals sharing the same values and vision of development.
The contract guarantees to the volunteer:
A subsistence allowance (from 150€ to 1250€ per month)
Health insurance
Mondial assistance (worldwide support)
Pension contributions
One round trip-ticket
Service civique international
The Service civique international is a unique chance to express the personal commitment through unpaid and full-time voluntary activities and in a foreign country. In this way, it seeks to develop solidarity, mutual understanding and tolerance among young people and to promote young people's active citizenship.
It is a voluntary commitment for all UE young people aged between 16 and 25 years old.
This commitment's duration is between 6 months to 1 year.
The volunteer will get an allowance supported by the French state (about 500€) and the partner (107€ in cash or in kind).
The young volunteer will not have any responsibility at work because he/she will only be in a support mission. He/she cannot replace an employee.

---
Testimonies
Testimony of the Executive director of partner of SCD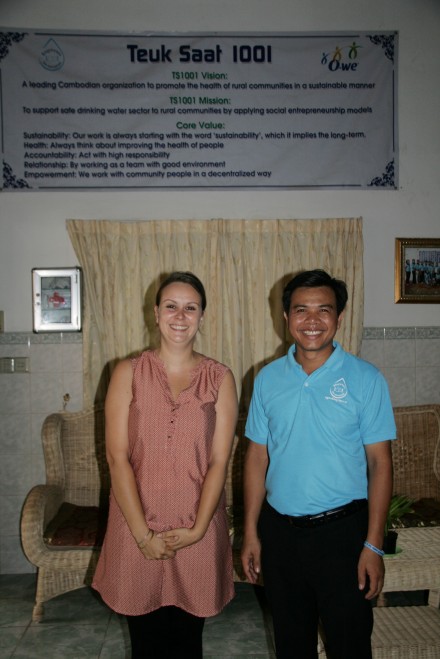 We are a non-profit organization that was created in 2007 with the support from 1001 Fontaines. Our mission is to support the rural community to get access to drinking water with the sustainability way.
As we don't have enough human resources, the international solidarity voluntary play an important roles to support our activities. The volunteer can help and bring new ideas. For example: the way of working, the quality of work and the communication with our partners, mainly the French team of 1001 fontaines.
We appreciate our partnership with the SCD because it can provide us a qualified volunteer and the process of partnership is simple.
The executive director and the SCD's volunteer Amandine

Testimony of the executive director of partner of SCD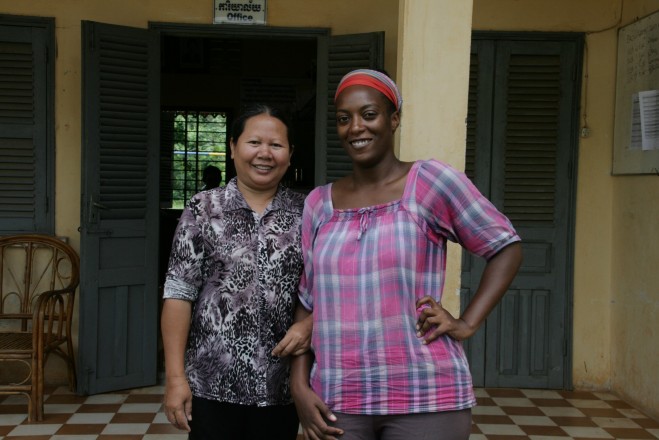 We are a local organization which works with vulnerable children by providing temporary shelter, health care, education in public school, youth job placement, family improvement and community development for them to grow with well-being.
We need experienced people to work in order to support the executive director and the staff to improve the quality of work. The international solidarity voluntary brings us great help to be better on organizational development, staff capacity and also fundraising
Our partner in France presented SCD and we are very happy in this collaboration.
The executive director and the SCD's volunteer Sophia